Story from Alternative Press (Link HERE):
Blink-182 have just announced an amazing US tour that you're not going to want to miss.
Check out the dates and who else will be touring with them below!


Mark Hoppus recently revealed during a Twitter
Q&A that we'd be hearing new Blink in April.
The band also has been teasing the deluxe
edition of California, with Travis Barker revealing that it "almost should be a new album."


Tickets go on sale this Friday (Feb. 10) at 10 am
here.


Check out the dates below!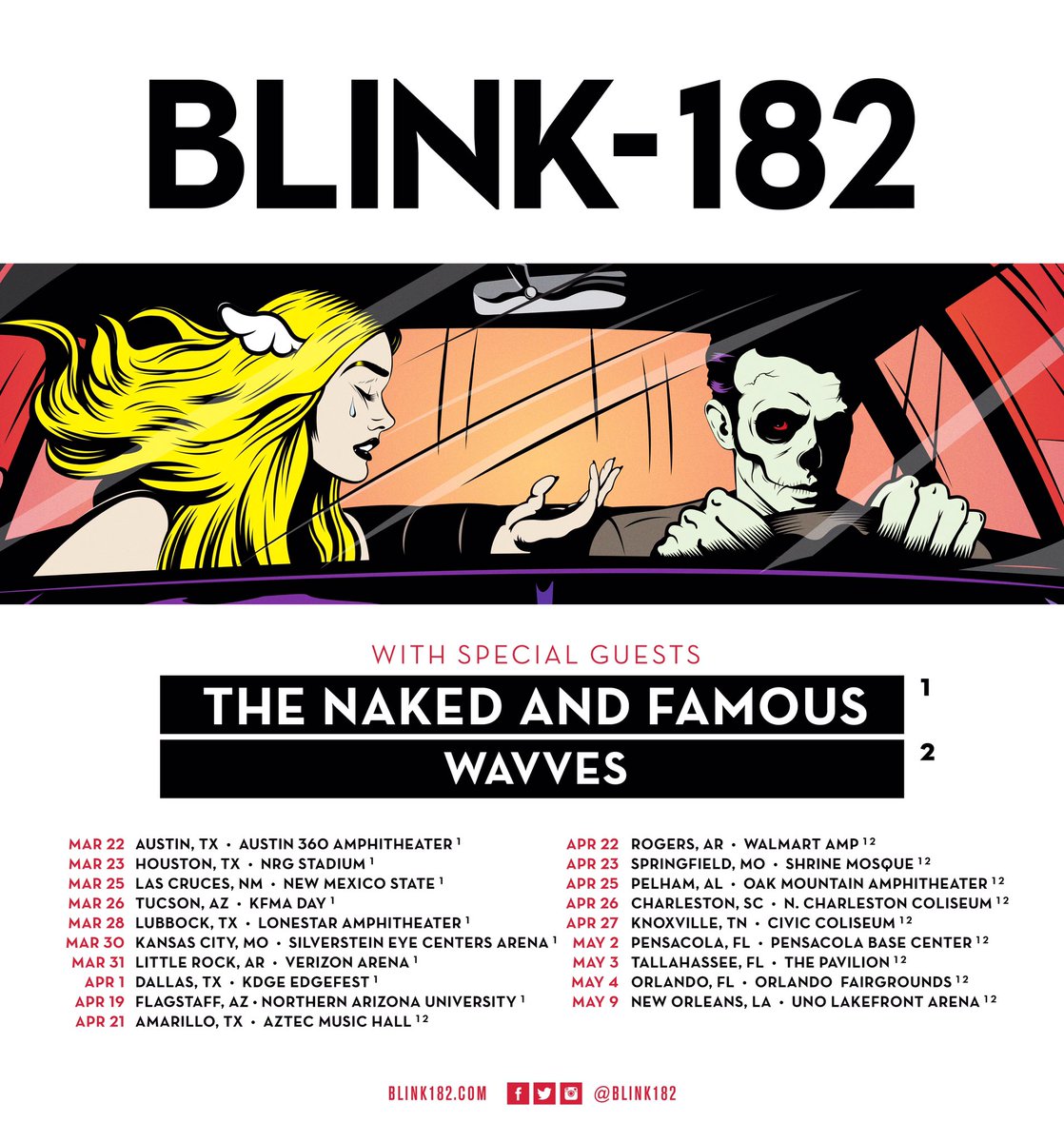 Tour dates:
3/22 - Austin, TX @ Austin 360 Amphitheater
3/23 - Houston, TX @ NRG Stadium
3/25 - Las Cruces, NM @ New Mexico State
3/26 - Tucson, AZ @ KFMA Day
3/28 - Lubbock, TX @ Lonestar Amphitheater
3/30 - Kansas City, MO @ Silverstein Amphitheater
4/1 - Dallas, TX @ KDGE Edgefest
4/19 - Flagstaff, AZ @ Northern Arizona University
4/21 - Amarillo, TX @ Aztec Music Hall
4/22 - Rogers, AR @ Wal-Mart Amphitheater
4/23 - Springfield, MO @ Shrine Mosque
4/25 - Pelham, AL @ Oak Mountain Amphitheater
4/26 - Charleston, SC @ N. Charleston Coliseum
4/27 - Knoxville, TN @ Civic Coliseum
5/2 - Pensacola, FL @ Pensacola Bay Center
5/3 - Tallahassee, FL @ The Pavilion
5/4 - Orlando, FL @ Orlando Fairgrounds
5/9 - New Orleans, LA @ UNO Lakefront Arena